LOCK LEGION HISTORY
20 years ago, a group was started as a joke to piss off the Clock Crew. This group has since grown into a solid community that has lasted throughout the years, contributing to the history of Newgrounds and the internet as a whole. Despite many ups and downs, periods of prosperity and inactivity, today the Lock Legion celebrates its 20th anniversary.
As a tribute, its members have decided to share the little pieces of history that they have gathered: screenshots, anecdotes, animations and other various content.
You too can contribute to this interactive timeline – just head over to our discord and ping one of the moderators, who will be happy to provide you with the tools to add content to this page.
NOTE: THIS PAGE IS A WORK IN PROGRESS
May 26, 2003
N!!!!! is Newground's 100'000th submission
Call it a stroke of genius or sheer luck, but Strawberry Lock submits N!!!!!, which gets the honorable title of Newgrounds' 100'000th submission.
Unfortunately, only its obituary remains as it got blammed like most of Strawberry Lock's creations.
This is considered the day of the birth of the Lock Legion we know today.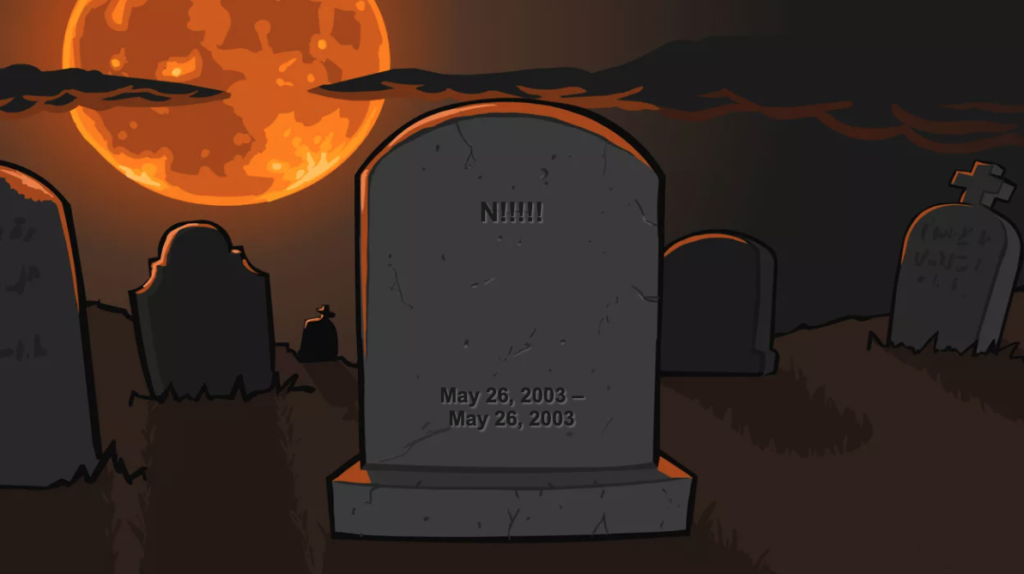 November 2003
LockLegion.com rises
The first traces of the locklegion.com website start to appear online. The community is growing rapidly, riding on the Clock Crew's rising popularity. Many Locks are coming from there, hoping to find some comedy in creating a rival gang.
The site is ran at this time by BananaLock.
Notable members of the time include Money Lock, MP3 Lock and Negative Lock
March 2004
TrashLock hosts the Lock Legion
After much drama and migration to his own server, TrashLock launches a new locklegion.com website complete with forums, tutorials, a link portal that allows members to help each other promoting their submissions on Newgrounds, and a FLA library. The latter allows Locks to share their "avatar" so that others may put them in their movies.
Notable members of the time include Peach Lock, Head Lock, Coffee Lock and Aubergine Lock.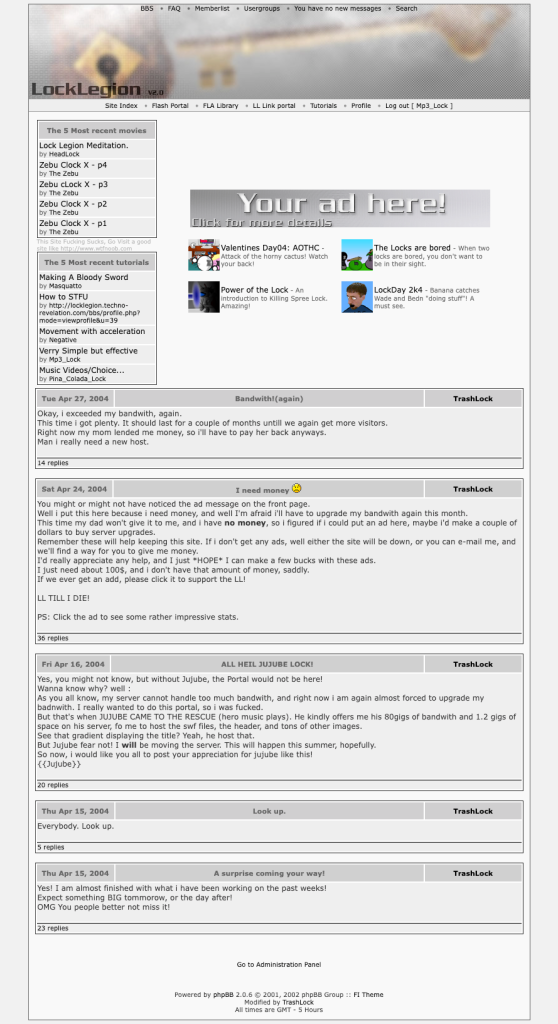 May 26, 2004
Lock Day 2004
The Locks celebrate the first annual Lock Day on May 26th, 2004!
August 2004
Start of the bi-weekly contests
Bi-Weekly contests are a way for Locks to practice making Flash animations. Every 2 weeks, a theme is given to the members, and the top-rated animators get Lock Point rewards.
September 2004
LockLegion.com gets deleted
The forums are deleted. How? Simple: Jujube, a respected site admin is flatmate with Lollerskates, who one night thought it would be really fun to log into Jujube's computer and press the delete button.
For a couple months, Trash gives up on hosting the LockLegion.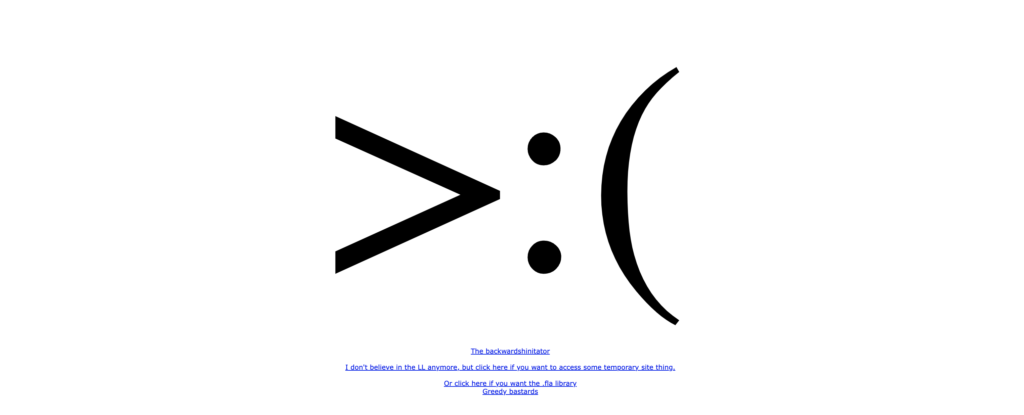 September 2004
The Lock Legion gets a collection page on Newgrounds
Truly a testament to the group's rising popularity, Tom Fulp creates a collection page for the Lock Legion – something that was reserved to contributors or topics of a certain notoriety.
The page originally features character bios for some of the group's most prominent members. This page will later be cleaned up to only contain submissions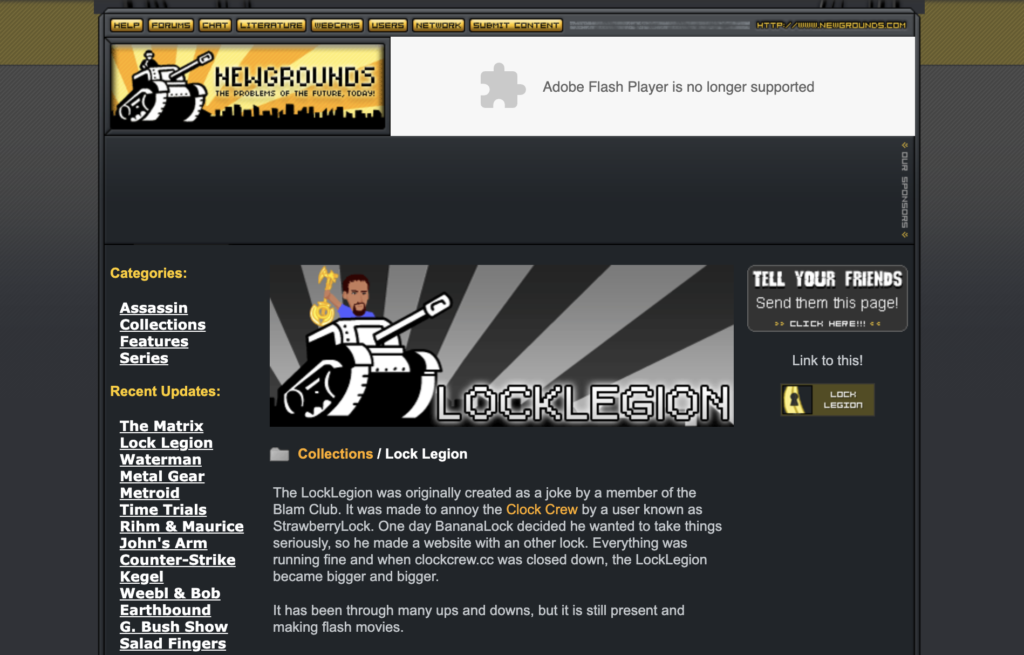 December 7, 2004
LockLegion.com v4.0 is born
A brand new website, again hosted by Trash, is launched. Inspired by the Newgrounds.com layout of the time, the website boasts some futuristic blue colors.
It is also at this time that Fade Wulp on the tank holding the Key of Glorton becomes the official logo of LockLegion.com.
The site hosts a unique new feature: premium accounts. The concept is simple: support Trash's hosting costs by paying a small fee to get exclusive privileges such as unlimited name changes, special red text, and other special perks.
January 16, 2005
The Lock Legion submits their first Collab
The gang chooses the song Hotel California, by The Eagles, to animate their first ever collaborative project. The movie is quite a success, gathering more than 100'000 views and getting the Daily Feature, a coveted award for any Newgrounds contributor.
March 26, 2005
New "Lite" theme on LockLegion.com
After much criticism from the community over the darkness of the original LLv4 design, Trash decides to create a new, lighter design for LockLegion.com.
This unmistakable design, which has been brought back from the dead today, remains the main design for LockLegion.com until its complete disappearance later.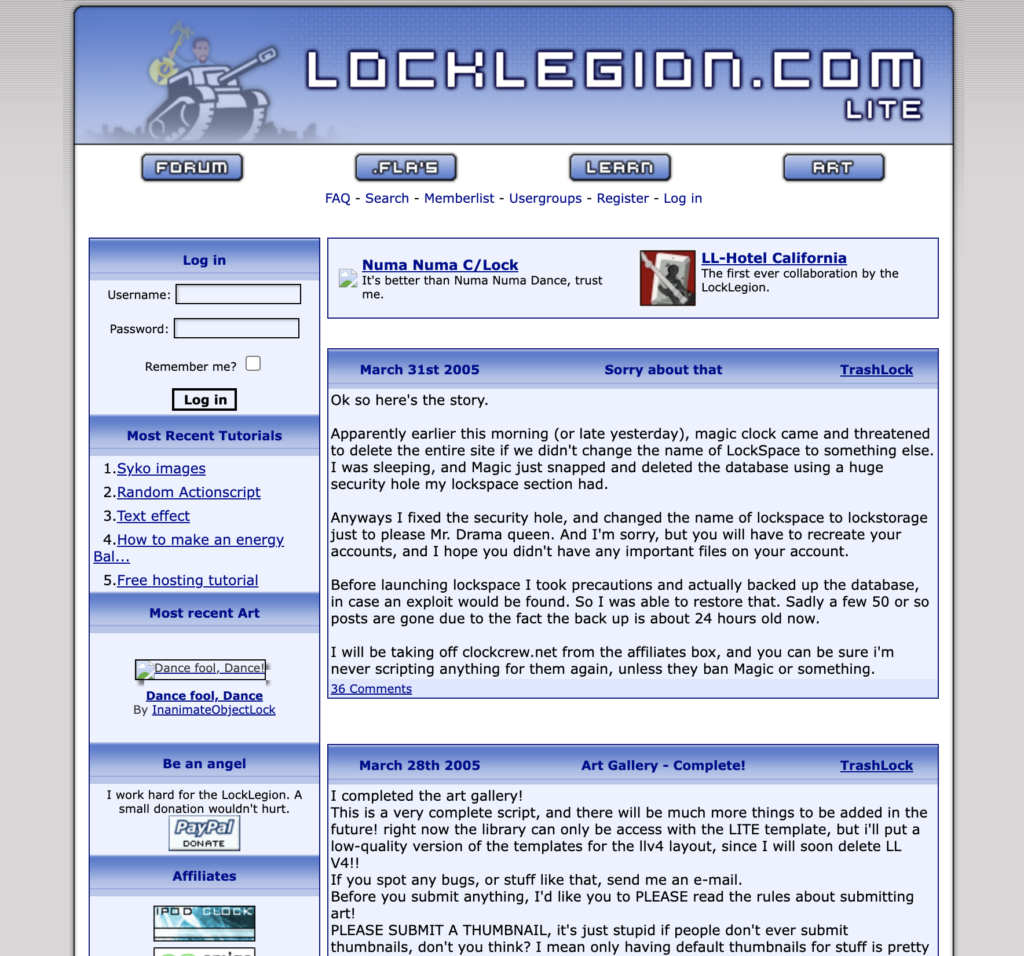 May 26, 2005
Lock Day 2005 is a resounding success
Lock Day 2005 is celebrated with a record-breaking 32 submissions in total!
June 2005
300'000 posts on LockLegion.com
Boasting more than 3000 members, the LockLegion celebrates 300'000 posts on the forums.
October 26, 2005
Save Tonight – another successful collab
The Lock Legion is on fire! After the success of Hotel California, the group's finest artists create yet another successful collab: Save Tonight.
The collab, which gets front paged very quickly, brings in tons of new members.
November 10, 2005
Another Front Page for the Lock Legion
This time, HidraulicCat gets the front page for their Flash, Klop's Revenge!
October 2012
Sunshine Lock builds V5
After the disappearance of V4, many locks were scattered to the wastes of Facebook, Skype and other distopian surveillance states.
Some found refuge in the maelström of Discord under Wine and Zteagh's care and Winchester re-opened the route to utopia safe-haven for those fleeing the destruction.
Then Sunshine parted the clouds of uncertainty with a fresh ray of hope – a new home for the legion, completely custom built and expandable to suit their needs.
Sadly, such ambitious plans soon fell by the wayside as most were simply happy to have a place to call home.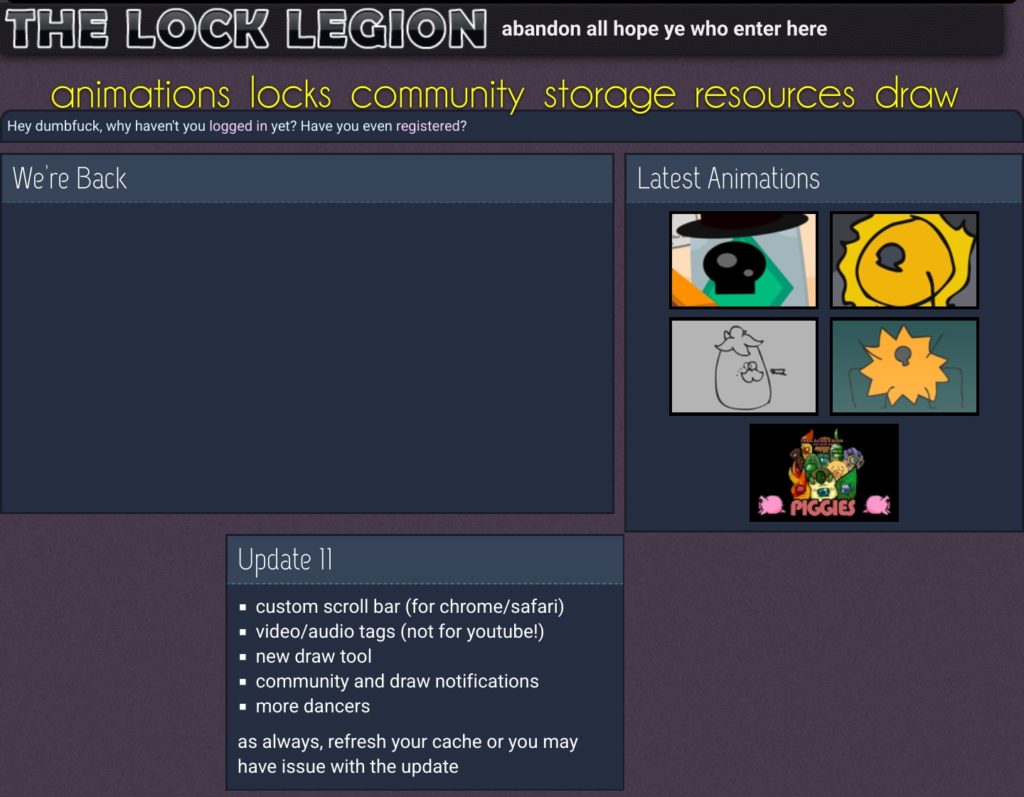 July 2015
Forums deleted (again)
Smashed Lock – a former site administrator, having discovered that they still have renaming privileges, abuses that power to prank users.
One drunken night, after seeing a newer lock being picked on in the threads, decides to set everyone's name to theirs.
Declaring:
Let us ALL be Alien on this Glorious Night!
They manually rename every user account to AlienLock.
Unfortunately, due to the way that Sunshine stored posts in the database, this merged every post under one unified AlienLock author.
This effectively rendered the site useless as even new posts were being added to this user and renaming any one user with the name AlienLock would rename them all. May 26, 2020
A revival during lockdown
Strange how the global pandemic and its inevitable lockdown seems to have made everyone in the Lock Legion remember that there was a Discord server.
Despite years of inactivity and people saying it was dead, the Lock Legion comes back strong in 2020 with a total of 4 submissions!
July 2020
Donations bring back locklegion.com
After its members raised more than 1000$ in 24 hours, the crew buys back the locklegion.com domain name from the people who had squatted it for more than a decade.
Though the community is still mostly active through Discord, the new website is recovered with a design straight from 2004, including a forum and front page.
May 26, 2023
The Lock Legion turns 20
While Lock Day 2023 will surely be a day to remember, we all hope that it won't be the last! However, seeing the enthusiasm from the last few months, it's hard to imagine a world without at least one dude somewhere creating something within the next 20 years.